Industrial Chic is a design trend that continues to gain momentum and attention.  The growth and renewed popularity of urban areas contributes to the prominence, embrace, and exploration of this aesthetic.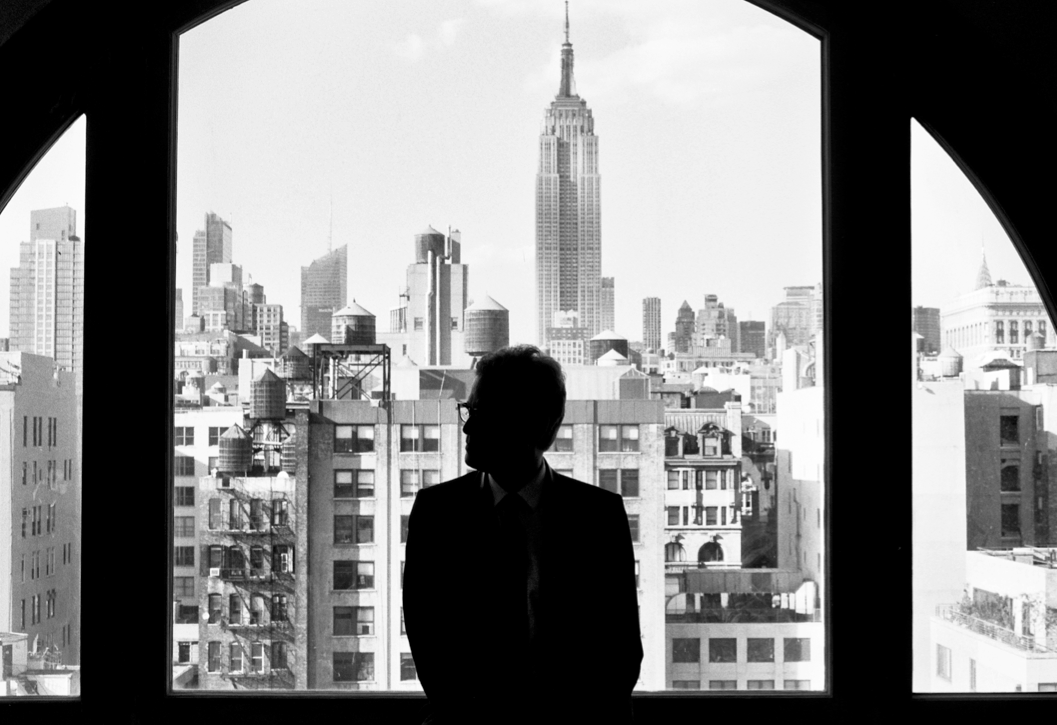 Loft-like living spaces are among the most coveted properties throughout the U.S. and are found in some of the country's most desired developing neighborhoods.  Whether they are converted factory spaces in downtown or waterfront areas or new buildings designed to capture the spirit of these historic lofts, new homebuyers and renters gravitate toward this less formal style of living.  In addition, hotel chains like Aloft are restoring old buildings and redesigning them to feature their industrial heritage.
Large open living spaces, high ceilings, ample windows, versatile multi-function rooms, interesting details imbued with history, and the embrace of casual, anti-formal lifestyles all create high demand for this style of design. 
Industrial Chic Living Spaces
Newly-built Industrial Chic living spaces are staples along the Highline on the West Side of Manhattan between the Meatpacking District and Hudson Yards.  In Brooklyn, areas from Red Hook to Industry City boast incredible loft spaces.  Similarly, Downtown Los Angeles is an anchor of this type of living in Southern California.  From Atlanta to Denver to Seattle, Industrial Chic living spaces are cropping up everywhere.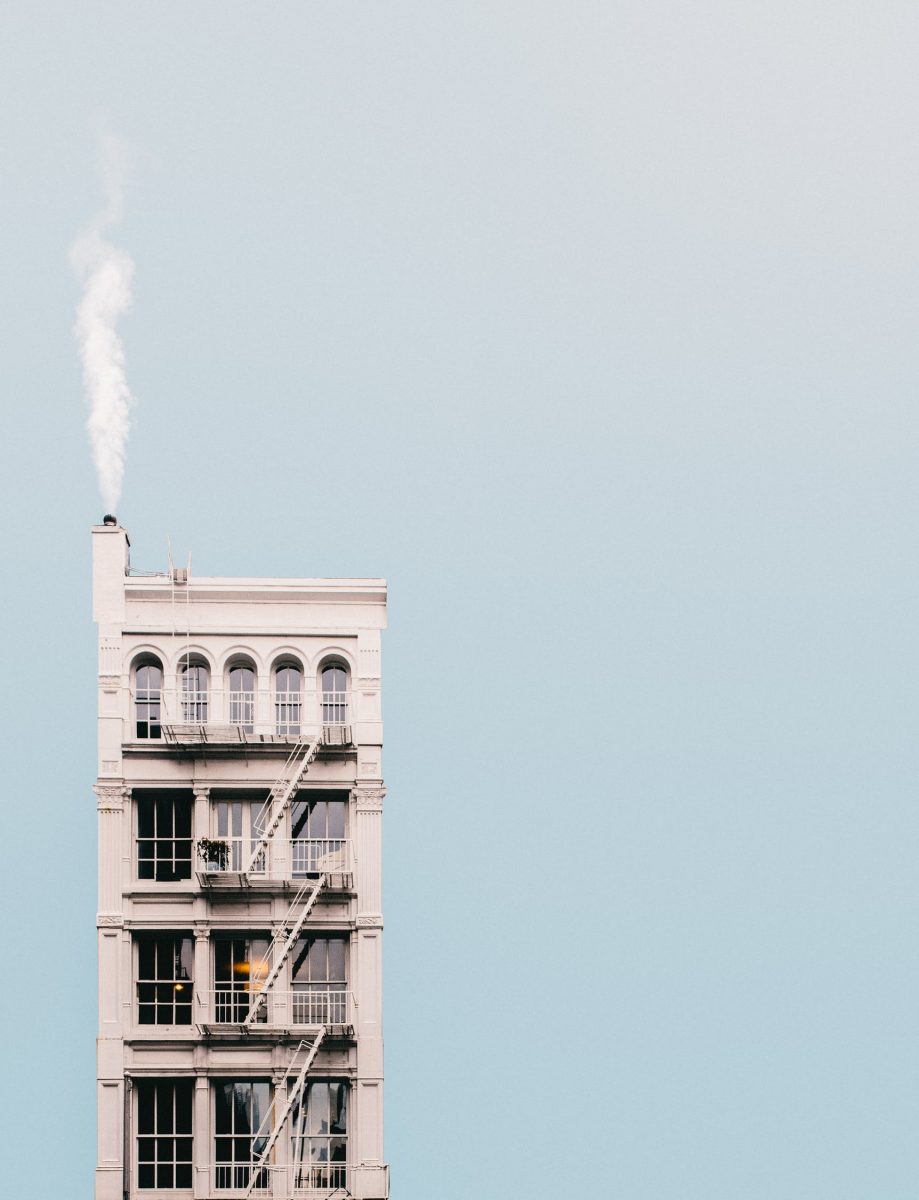 Interior Design
Interior design's current generation aspires to a greener, more eco-conscious approach to design.  Industrial Chic – and its newer permutations – lends itself to making greener choices.  For instance, incorporating recycled factory elements, such as metal shelving, found materials, and vintage pieces or accessories, contribute to this melding of industrial style with a heart of green.
Classic Industrial Chic spaces include many of these elements:
Reclaimed wood
Exposed brick
Repurposed or unfinished raw materials
Cement floors, polished concrete, or antique wood flooring
Exposed beams, pipes, and structural supports
Barn doors
Factory windows (with good seals, of course, to prevent energy-sucking leaks)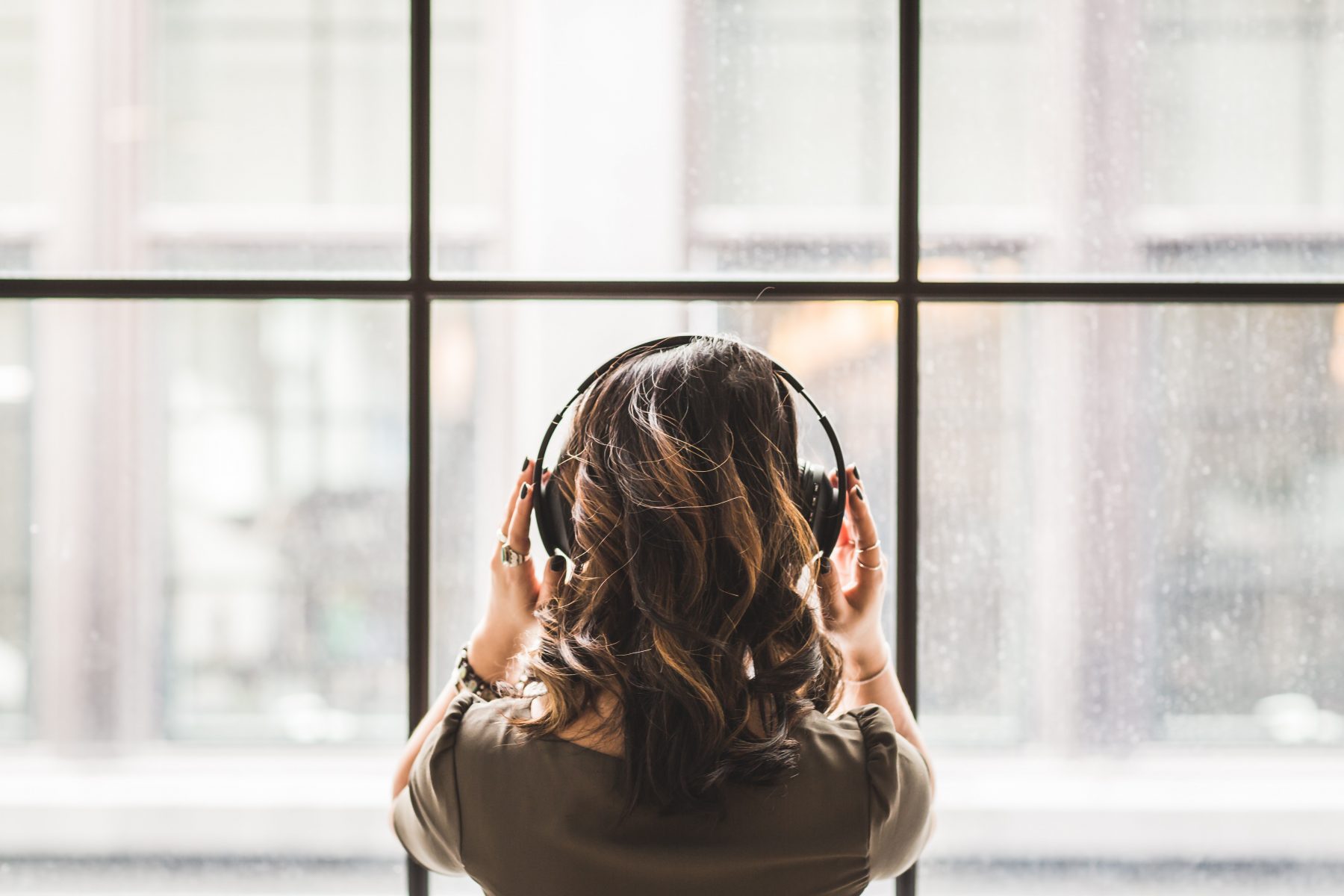 However, industrial style today incorporates a much larger range of materials and finishes.
Defining the Space
One of the keys to successful design with large open rooms is to create smaller areas within the plan.  Therefore, it's important to define more human-scaled areas, in order for people to feel comfortable.  While the drama of large rooms and high ceilings has great visual impact, residents and their guests need to know where and how the space functions to feel at home.
The first loft I designed was in the Chelsea neighborhood of Manhattan. The clients were a young couple who were expecting a child. As a fledgling designer in a small apartment, I was awed by the amount of space that they had. Ironically, they told me that they weren't comfortable in the vast expanse. So, I created cozier spaces within the loft: seating groups for talking, watching TV, reading, or entertaining.  I even created a life-size dollhouse within their loft for their new daughter to live in.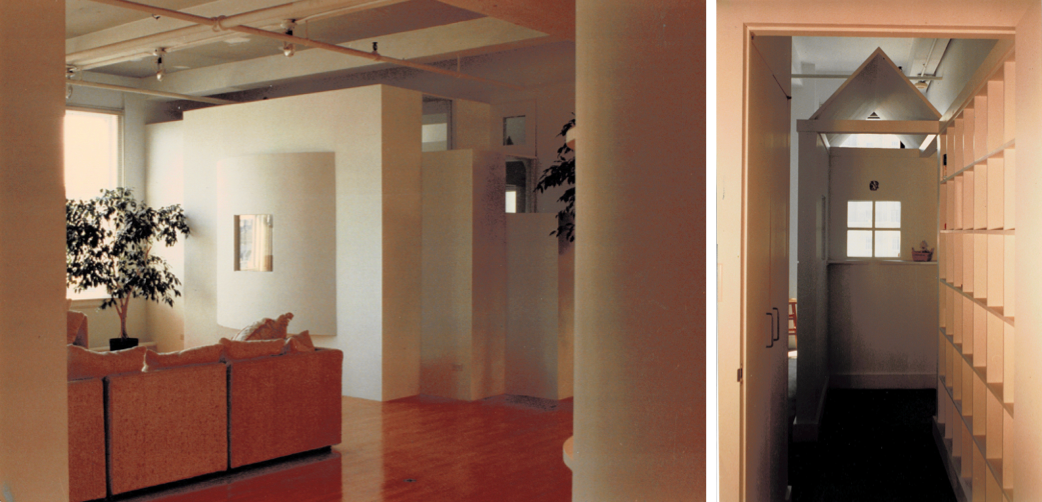 Currently, I live in a loft that was built as a printing factory in 1910. I designed the loft to be a hybrid between a loft and a more traditional apartment. It is visually open, and I retained the exposed pipes and old radiators. But I created rooms that can be closed off for aural and visual privacy.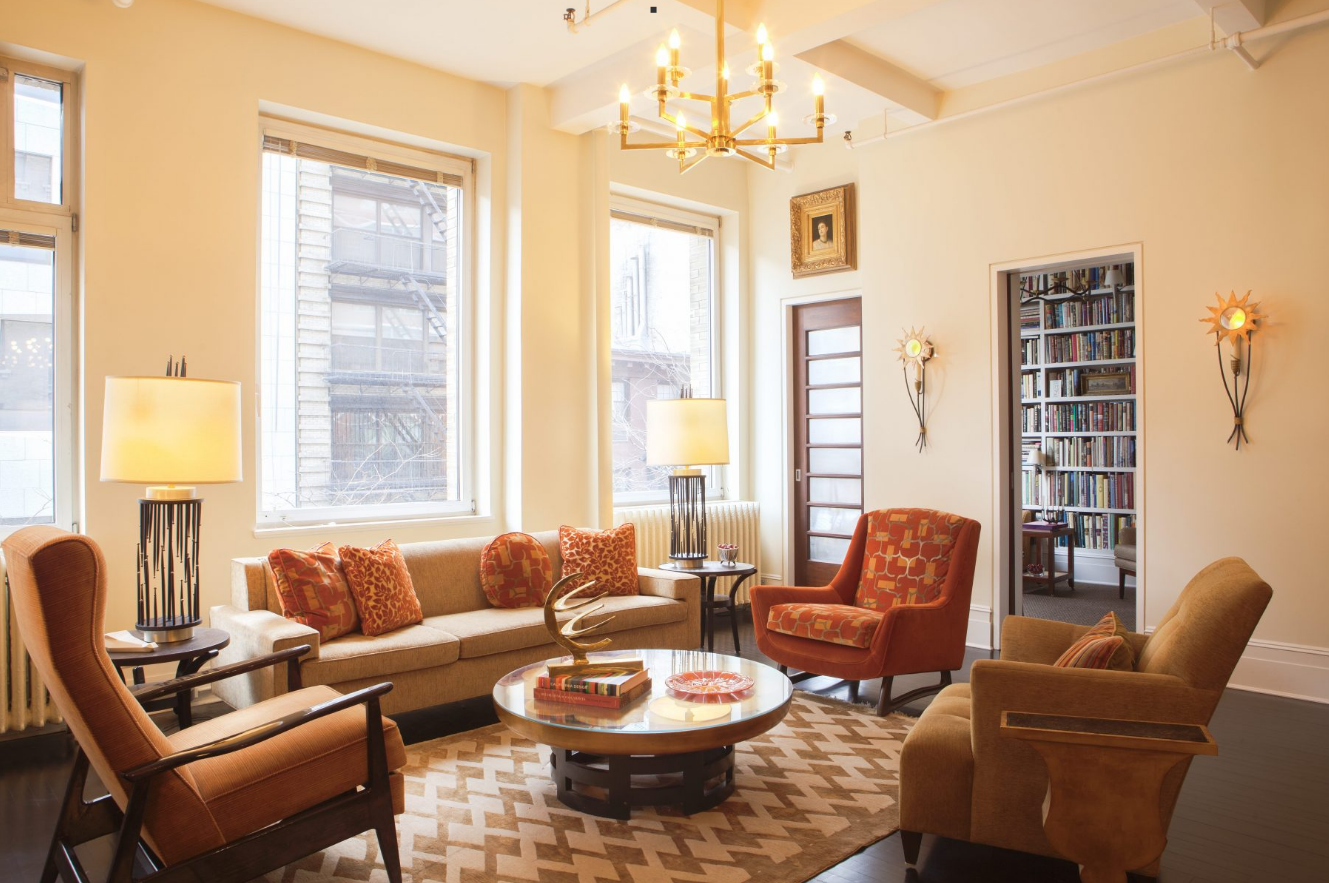 Some elements to consider:
Lighting: Leading the Way
Lighting helps define any space, large or small.  For instance, when an audience sees a stage for the first time, it is the lighting that directs the eye and helps the viewer know where to look, what is important, and sets the visual hierarchy.  Different levels of lighting create drama and coziness within the large space. Systems like Ketra can control the color, dimness, and intensity to focus on art and other features of the space.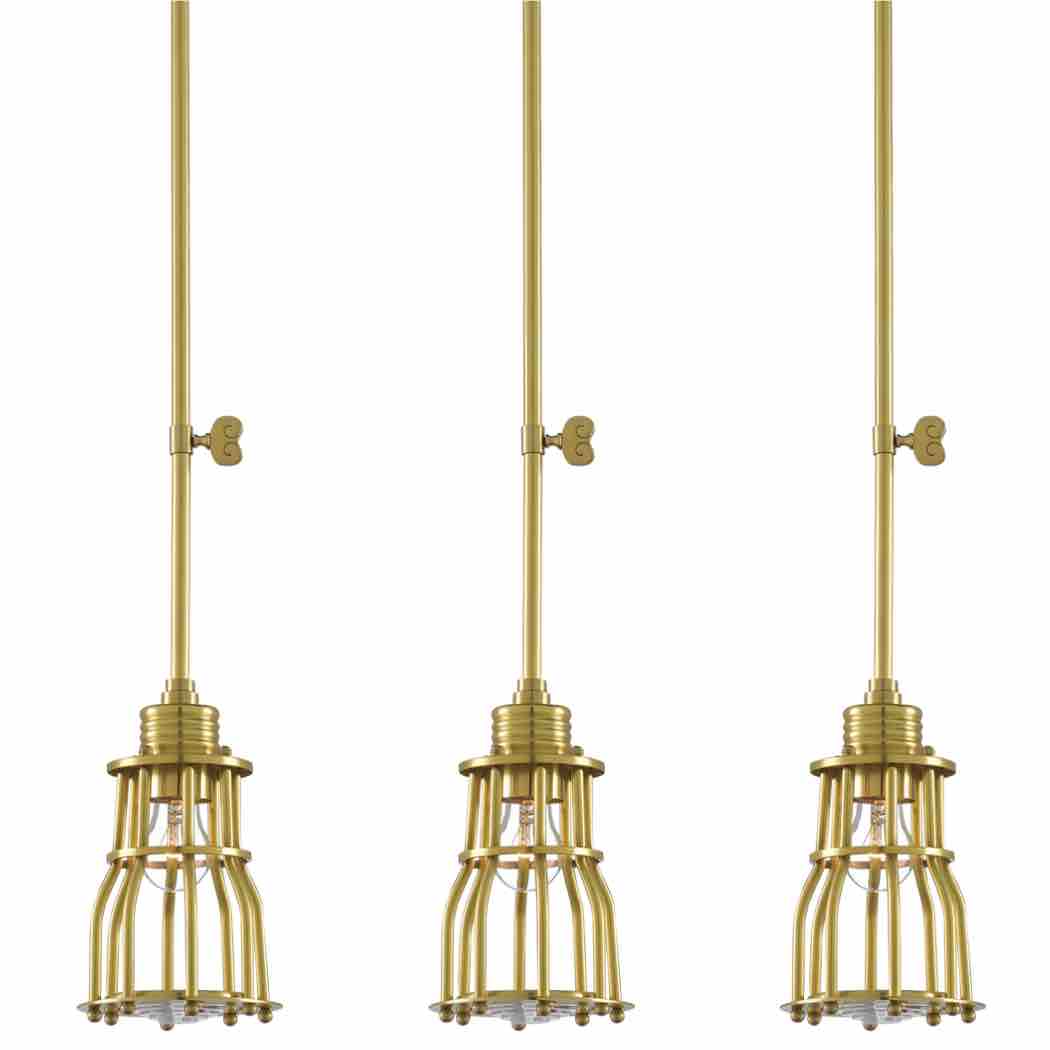 The Davy pendant light, Davy floor lamp, Davy desk lamp are examples of Industrial Chic's latest manifestation. Inspired by an antique caged safety light, these decorative statement pieces infuse an industrial touch into any room.
Coffee Table: Signals Seating Areas
The coffee table becomes a key element to any larger industrial space.  It helps to anchor an area within a large loft.  By surrounding a distinctive coffee table with seating, a defined living room area becomes immediately clear.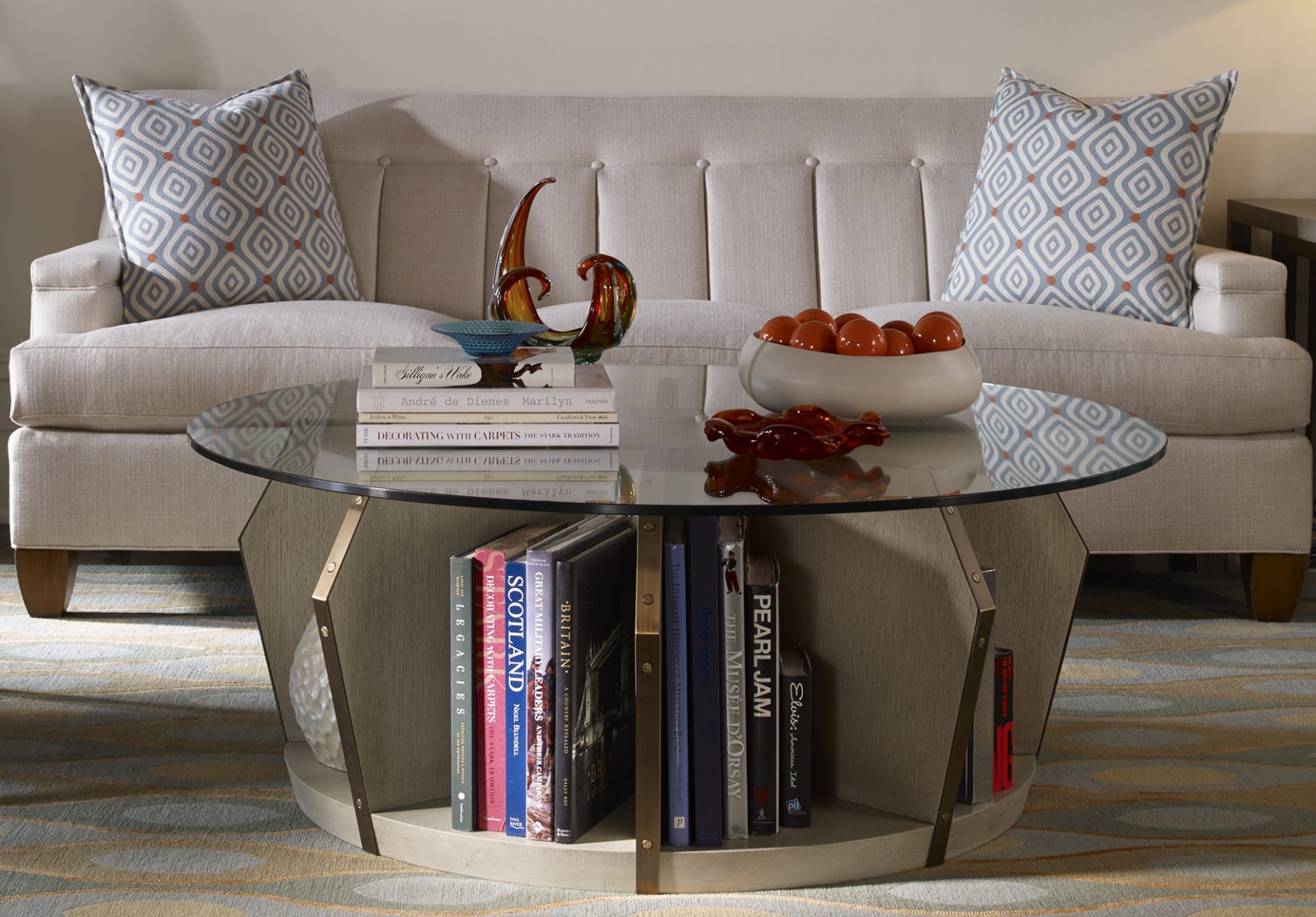 The Spencer coffee table, from my collection for Vanguard Furniture, is inspired by the nut-and-bolt sorters found in old hardware factories. By re-conceiving the typical horizontal orientation of the cocktail table vertically, its cog-like design provides innovative storage and display options.  What used to be stored or displayed on the lower shelf of a cocktail table is no longer hard to reach.  This type of vertical storage makes access to coffee table books or even classic vinyl LPs easy.
Dining Room: Defined by the Dining Table
The dining room is more likely to be a dining area in an Industrial Chic loft space.  Obviously, the dining table clearly signals where meals are to be enjoyed.  The table itself can be an artistic statement, like a Howard Werner piece, which I've used in a project, or can be purely utilitarian.
I also like to specify old factory furniture or industrial pieces as accents, such as these vintage bar stools (see below). Reusing furniture is one of the greenest things we can do. Each year, 6% of the landfill is made up of home furnishings (9.7 million tons) [Source: Sustainable Furnishings Council]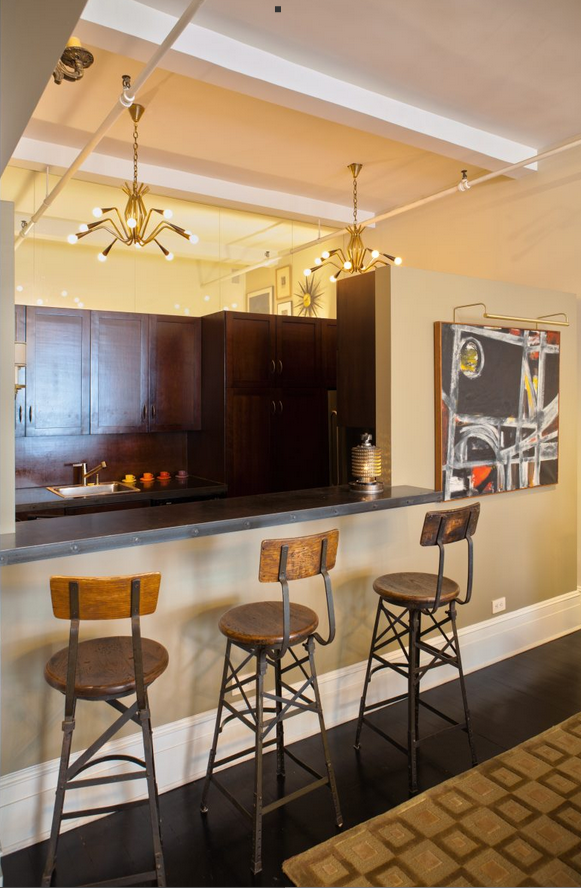 Open Kitchens: On Show
Open kitchens are frequently a cornerstone of loft living. Therefore, their immediate visibility means kitchen fixtures and appliances need more attention, because they'll be seen more.  Thankfully, a variety finishes beyond the standard stainless steel are now available. Mixed metals and colorful enamels are making their way into the design vocabulary.
Clients like the cooking-show-feel of an open kitchen.  Easily accessible counter tops with lots of room make prep and cooking feel more fun and professional.  Plus, the chef is not sequestered in another room away from friends or family.  The cook can be a part of the action and conversation.  Or even be the entertainment.  
Bedroom: Separate Is Best
For me, the ideal loft has discrete bedrooms and guest rooms.  Wide-open living is nice, but if you live with others or have occasional guests, the areas where you sleep should be private, soundproof, and lightproof.  Nothing disturbs a good night's sleep more than the late-night insomniac finishing their book, the snack-scrounging Ambien sleep-eater, or the early-bird workout fanatic getting ready for an ungodly pre-dawn run. 
All of my thoughts on bedroom design for better sleep still apply.
Bathroom and Powder Room: Privacy First
Bathrooms should be private – especially aurally. Whether you live in a loft or not, no one wants to hear or be heard when it comes to the bathroom or powder room.
Color Palette and Textures
Color palettes in industrial spaces are expanding. Neutral colors are no longer the only tones incorporated. Designers are using more adventurous colors, exploring far beyond the worn metal finishes, distressed reclaimed woods, and exposed bricks of the 1980s.
Juxtaposing high-gloss finishes or strong colors to the to the staple design elements of urban chic adds excitement to the usual utilitarian colors. For example, A Luis Barragán-inspired color wall or partition immediately contemporizes the color palette of any loft space. All of this creates a newer, more exciting environment.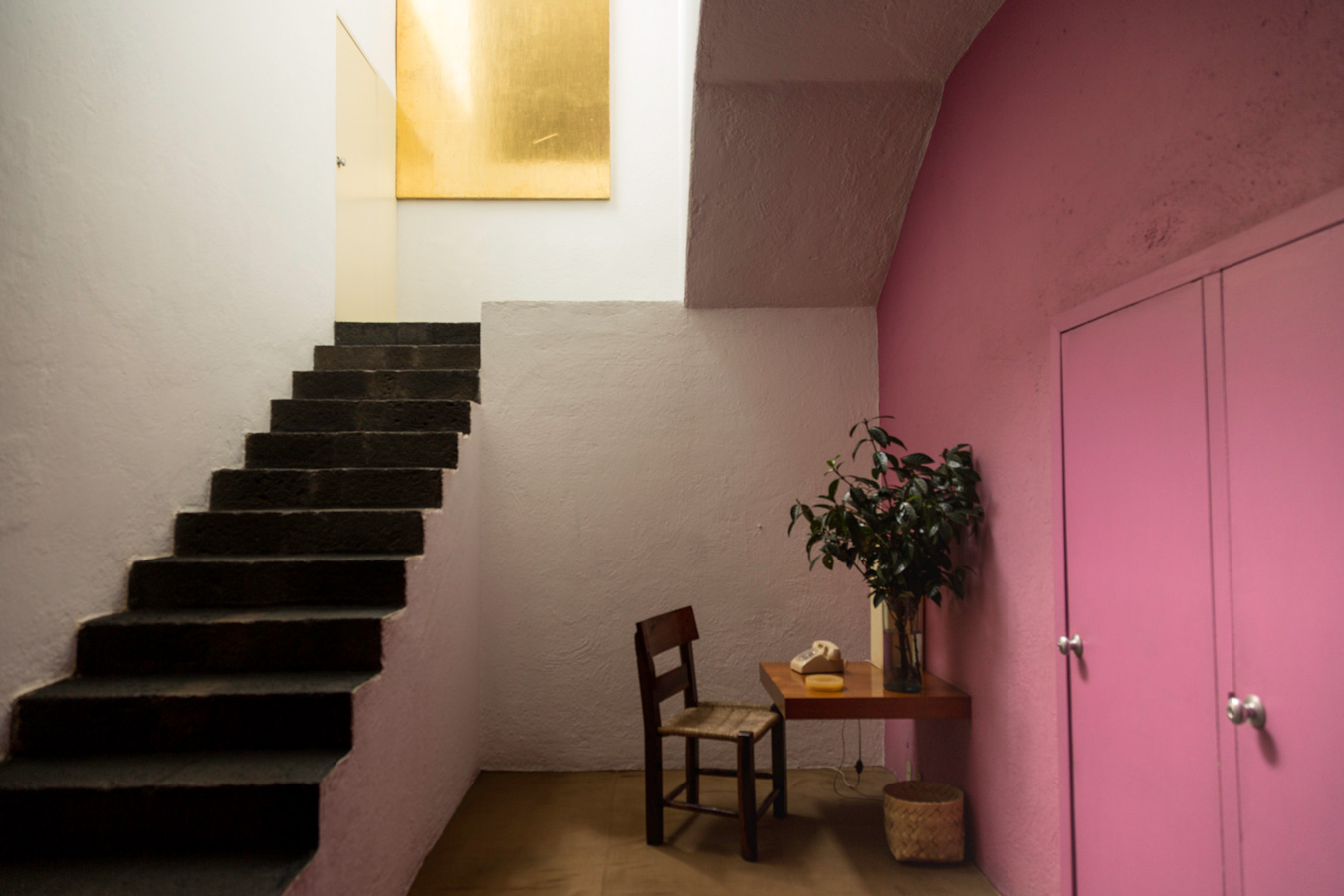 Layers of old paint convey history and depth. Poured cement flooring with mineral or oil stains provides rich color and dimensions.  Exposed brick contributes time-worn facings.  I like to expose a sliver of exposed brick as a hint of the original structure, rather than a vast expanse, which can become dirty and hard to hang art on.
A new product I've recently discovered is Magna GlasKeramik at Walker Zanger. These slabs are 100% recycled glass, which has been sintered (the same technology used to create glass stove-tops), so that they become a solid surface, similar in quality to granite engineered stone. The different colors are made from different materials, including computer and cell-phone screens, bottle glass, and auto glass.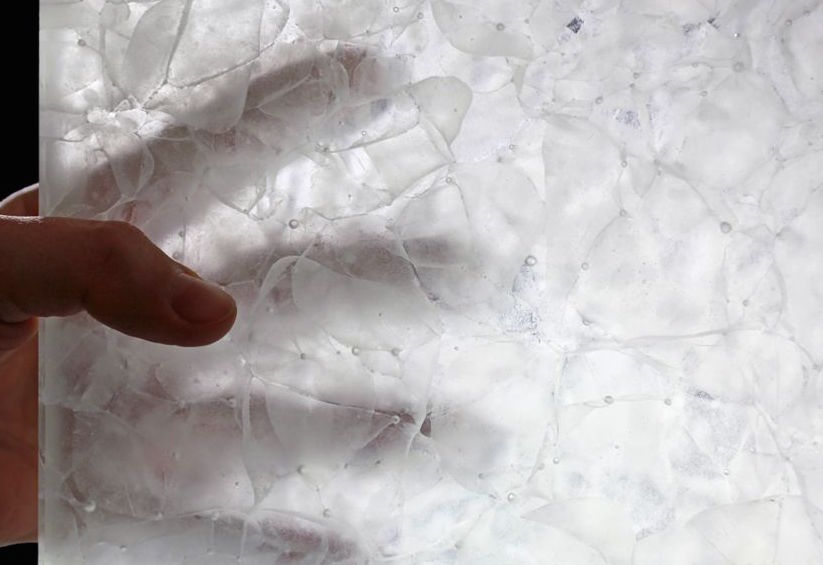 As I look at some of the origins of Industrial Chic, I'm brought back to the book High Tech by Joan Kron and Suzanne Slesin, which identified the idea of Industrial Design for the home in 1978.  Designers like Joe D'urso perfected the style. In our era, this look has become ubiquitous.  The style has actually endured long beyond a trend. Industrial Chic has become a part of our international design vocabulary.