Bedroom design for better sleep is one of the many ways a thoughtful interior designer can help a home look better, while improving the lives of those who live there.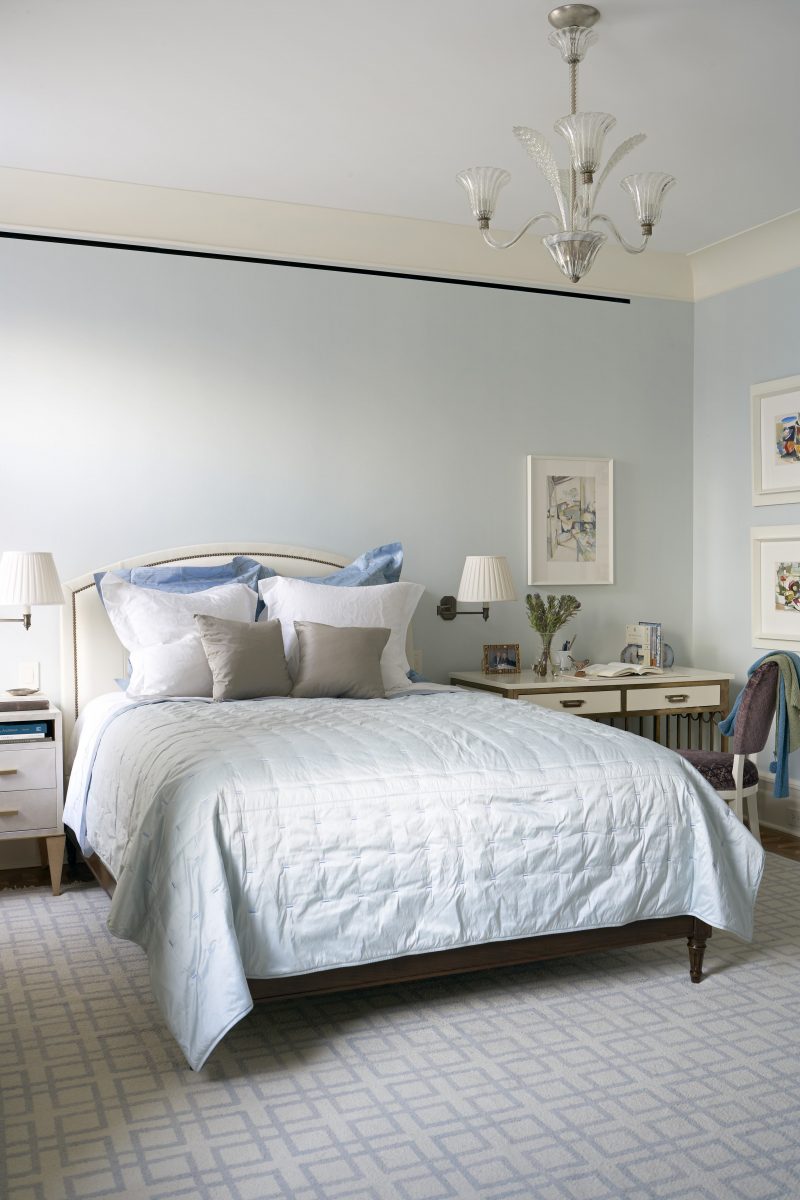 As an architect and interior designer, my primary goal is to help clients live better lives through good design. Beyond making a home look beautiful, I try to create a place where my clients can recharge, be restored, and feel rejuvenated. The bedroom is a key place to help clients achieve this by getting a good night's sleep.
Over the years, I have heard several clients remark that they often sleep better in hotel rooms than at home. I've experienced the same thing. Simple features of hotel rooms can be included in the design of the bedroom at home to help get a better night's sleep. Here are some essential bedroom ideas that help with better sleep.
Blackout Shades: Sleep In the Dark
Blackout shades keep the room dark, which helps to regulate the Circadian Rhythm. We naturally wake up when light filters into a room. It's why hotels have blackout curtains. And it's why I recommend installing blackout shades in every bedroom I design. A good resource for this is The Shade Store. They offer a wide variety of fabric options, provide automatic operation, and will field measure for accuracy.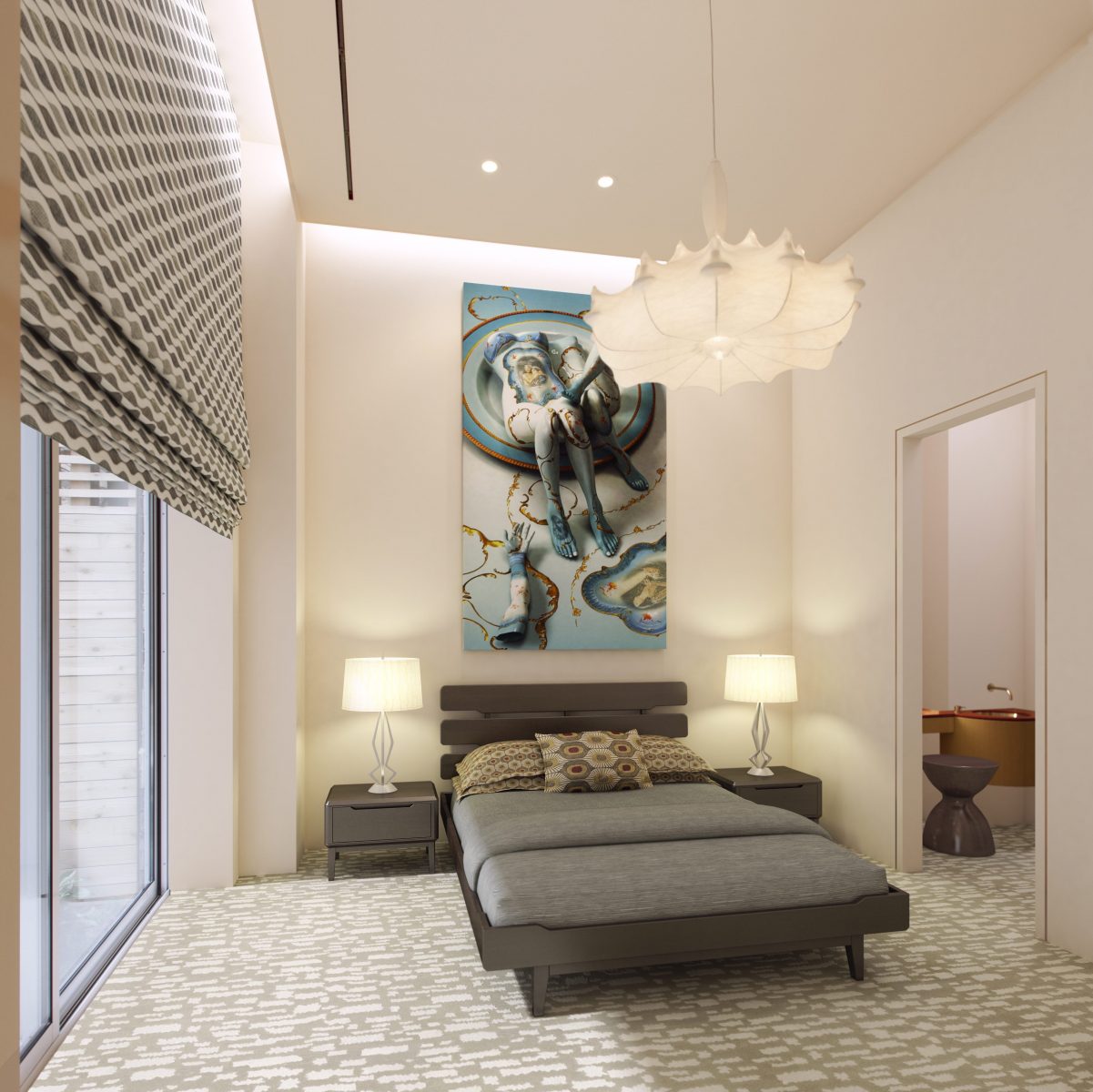 Bedroom Thermostat: Keep the Room Cool
Installing a temperature-regulating thermostat in the master bedroom, which regulates the temperature of the bedroom allows clients to set an optimal temperature for the bedroom alone without cooling or heating the rest of the home. The ideal sleeping temperature for sleeping is between 60 and 67 degrees Fahrenheit, according to the National Sleep Foundation. Again, hotels have individual controls for each room, so this is not an unreasonable luxury. Whether you have a modern bedroom or traditional bedroom, temperature is one key to better sleep.
Red Before Bed: Limit Blue Lights and Screens
One of the first things I do in every job is put almost every light on a dimmer. This includes bathroom lights, living room lights, pendant lights, and chandeliers. A proper level of lighting is crucial to the successful design of any room at any time of day. But an additional incentive for a dimmer is that any bright light right before bedtime can make it harder to get to sleep. That's because light sends signals to your body that it's not time to go to sleep.
According to Harvard Health, "blue wavelengths—which are beneficial during daylight hours because they boost attention, reaction times, and mood—seem to be the most disruptive at night." Therefore, dim, non-fluorescent red lights are best before bedtime (Personally, I would never install fluorescent lighting in any bedroom.) These are especially appropriate for use in lights on nightstands, floor lamps in the bedroom, or nightlights. I still prefer the warm glow of an incandescent bulb, though LED lighting technology is making great strides in this area.
Ketra, which is part of the Lutron family of lighting, is a state-of-the-art lighting system that allows you to create a multitude of lighting scenes with different intensities and colors. It can be controlled by Alexa or Google Home, so you don't even have to leave your bed to change the effects.
Ideally, you're not supposed to look at any screens – phone, computer, or iPads – a few hours before bed.  But for an avid reader like me, that's just not possible.  I always have an eBook waiting for me on my bedside table. So, I recommend that if clients are reading on iPads or tablets at bedtime, they use the nighttime setting, which limits the amount of blue wavelength lights.
For more on how blue light affects your body, read here.
Soundproof Windows and White Noise Machines: The Sounds of Silence
When it's reasonable, I recommend that the bedroom design be as soundproofed as possible. It doesn't need to be as silent as a recording studio, but the quieter it is, the less likely clients are to be awakened in the middle of the night.
For clients who live in the city, I encourage installing city windows, such as CitiQuiet. These double-paned windows create an airspace, which acts as a sound buffer. And a good seal around the window cuts down the noise that reaches into the bedroom. This helps to create the perfect sleep environment.
For clients who can't install such windows, due to co-op boards, existing conditions that prevent installation, or historical landmark limitations, a simple white noise machine on the side table can be effective.
White noise helps to block out annoying city sounds. I have found that a whirring fan in my bedroom creates enough of a white noise backdrop that it keeps irritating nighttime noises from waking me unnecessarily (and once I'm awake, it's hard to go back to sleep). The white noise has made a remarkable change in my ability to sleep through the night – even in Manhattan.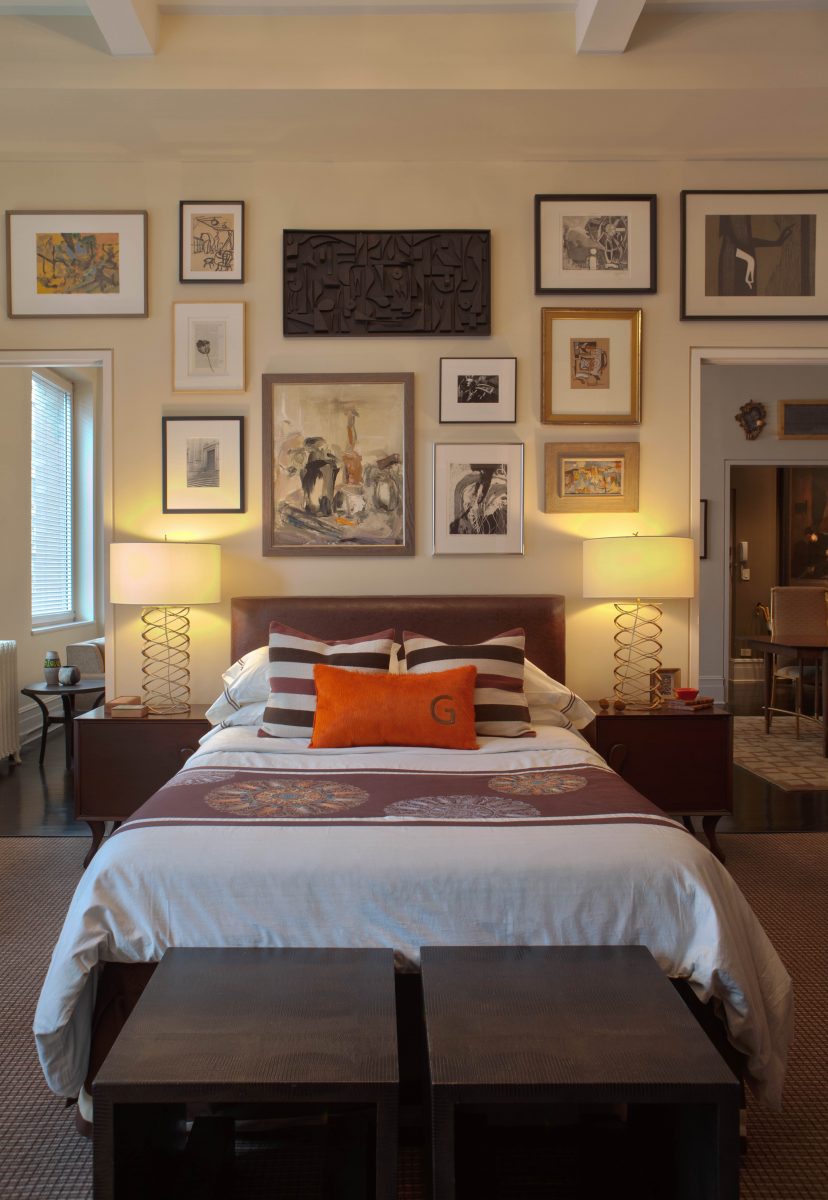 Gravity Blankets or a Luxe Heavy Blanket: Under the Cover of Night
I'm always looking for a good reason to incorporate a luxurious comforter or bedspread into the bedroom design. I've read articles and a few studies about the benefits of weighted blankets, so in addition to high thread-count sheets, I figure there's no harm in furnishing the bedroom with luxury bedding and a comforter that's worth its weight in gold.
To be honest, I've never gone as far as purchasing a weighted blanket for a client. They can range from 4 pounds to 25 pounds! Attractive gravity blankets are offered by Luxome.
Lavender Spray: The Smell of Sleep
Lavender-scented pillow and sheet spray is used by high-end boutique hotels during turndown service. It's known for its calming and stress-reducing effects – plus, it smells wonderful. So, when a job is finishing up, I make sure clients have a simple lavender linen spray they can use themselves, like this Lavender Linen Spray.
Other sleep tips that go beyond decorating ideas that I've recommended to clients are:
CBD Lotion as a Natural Sleep Aid
CBD lotion is a popular new solution to help with sleep. Many people find that rubbing a cream with a CBD component on the soles of the feet helps induce a more peaceful sleep. I have been using the Moisturizing Body Cream by Indigo & Haze and find it to be very effective. Positive side effects are smooth skin and the benefits of a lovely fragrance. A growing group of my friends have all become proponents.
Watch What You Drink
I know limiting caffeine, especially after noon, can help. I've learned to watch out for decaf, which is not un-caffeinated, and I've given up sodas with caffeine. Also, drinking less alcohol can help (though this could make an extreme dent in your social life).
We all make choices in how we live. I work with the lifestyle choices my clients make and offer the best in interior design to support their lives.
The bottom line is, a client's bedroom design should be one of the most luxurious, restorative places in their lives. And I sleep better knowing I've created a room designed to help create a place in which they can relax and rejuvenate.