Our friend, Janet, passed away last week (12/09/20), and it feels like a good time to revisit the interview I did with her a few years back.
The etchings of Janet Abramowicz can be said to exist in the realm of alchemy—a transformative process. This statement does not simply mean that the prints are the result only of chemical action taken to some higher level—although, of course, like all etchings, they are the product of a chemical reaction on metal. But, rather, it means that Abramowicz, through the usual processes of etching—plus some unusual additional actions—has transformed simple materials into works of art that are mysterious yet accessible, like Gateway to the Pyramid; intimate yet monumental, like her series Caves and Grottoes; original yet timeless, like her series Kyoto Gardens. Abramowicz creates works using several intaglio plates, printing one over the other, thus giving a sense of depth and emphasizing the materiality of the print, although, in fact, each plate is often a work in itself.
—Valuing Authenticity: The Expression of Enduring Qualities, by Suzanne Boorsch, Curator of Prints, Drawings, and Photographs at Yale University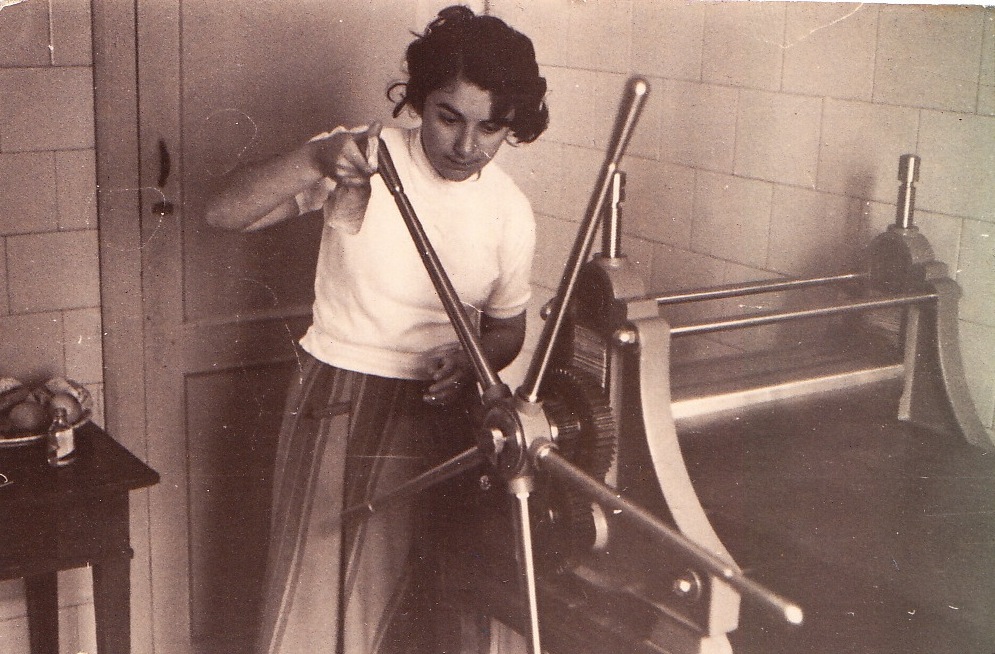 If I were asked the hoary old grade school question, Who is the most inspiring person you know?, the answer would be my upstairs neighbor, the American art historian, painter, and printmaker Janet Abramowicz. We've lived in the same building for more than ten years, and we often stopped to have a gossipy chat. I love hearing her stories about her experiences as an artist, writer, and professor. We have a lot in common: art, politics, food, New York City, grumbles about Cambridge, where we've both lived, and many other things about life.
A couple of years ago, Janet asked my husband Keith if he would advise her on creating a compilation of her work. She's very self-effacing and hadn't been sharing her work with anyone. She has a studio and a printing press in her loft, and there are cabinets and drawers brimming with the most glorious prints. After much talk and much Prosecco, she opened up the trove, showed us the work, and told how she conceived of pieces, how they were made, and what they mean to her. It's been an extraordinary experience for us.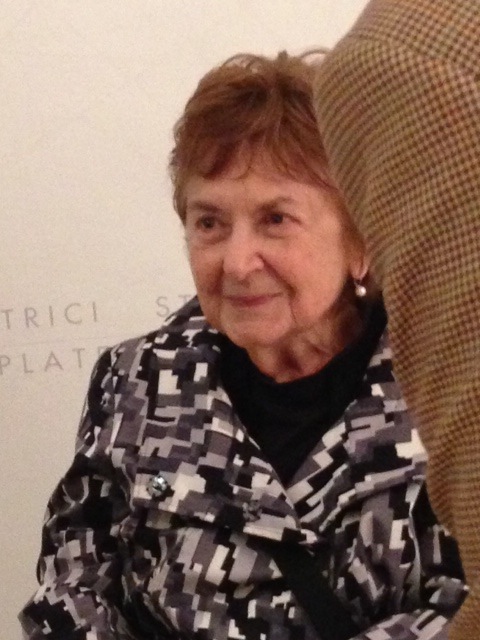 This May-July, Janet had a one-person exhibition, Janet Abramowicz: Motion and Vision, at the National Institute for Graphic Arts in Rome's Palazzo Poli, which forms a backdrop to the Trevi Fountain.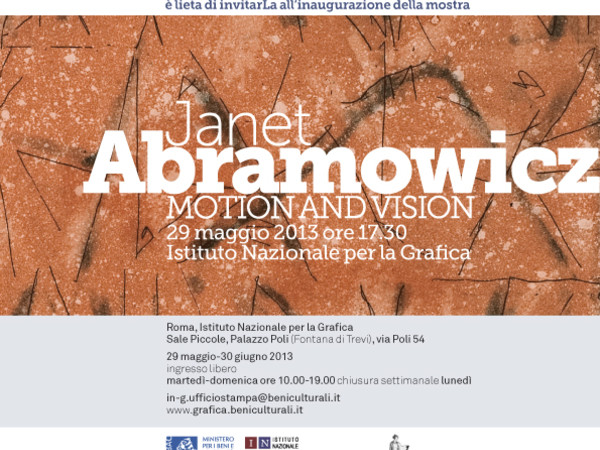 We began our summer by going to Italy to share the opening of the show with Janet and her family. It was incredible. There were more than 80 prints, lovingly reframed and installed. Since Janet doesn't believe in the sanctity of each print—that each one has to be exactly the same—she feels free to make changes of color or add layers and brushwork. To see the prints lined up, revealing both the emotional and technical evolution of each phase of her work, was remarkable.
We recently sat down with Janet to discuss her life and how she came to create her most recent oeuvre. Below are excerpts from our chat.
When did you first become interested in art?
From the time I was three. My mother enrolled me at The Art Students League of New York at 12.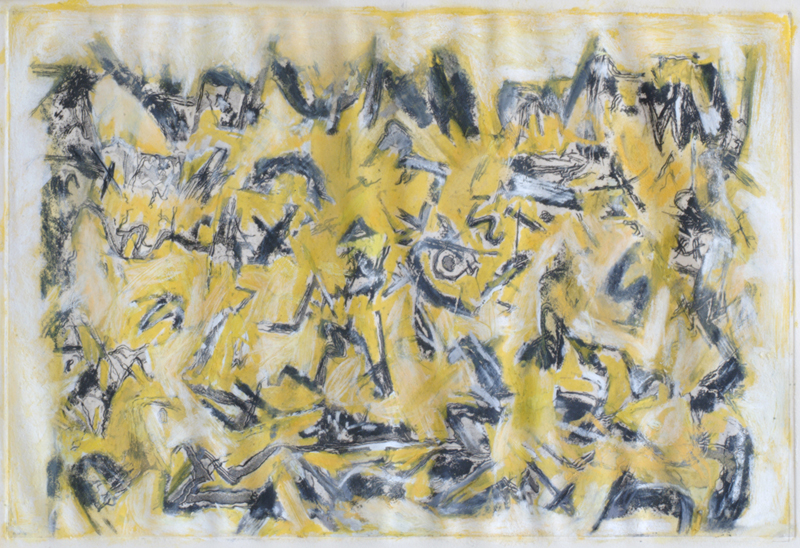 How did you end up living in Italy?
My mother sponsored a famous Polish Constructivist artist who needed to escape from Nazi-occupied Poland. She worked at the avant-garde magazine BLOK, and had several shows in New York, including one at Peggy Guggenheim's Art of This Century Gallery, with an introduction in the catalogue by Barnett Newman.
What made you decide to stay?
I was introduced to this artist's nephew—and my future husband—Artur Abramowicz, a medical student, and that was it. He had fought with the Polish Division of the British Army, against the forces of Mussolini.
How did you get to study with Giorgio Morandi?
When I was a student at the Accademia di Belle Arti in Bologna, Morandi was teaching etching. He was known as the Mago dell'Accademia, the Magician of the Academy. But my fellow students weren't clamoring to take his classes. They didn't know of his importance.
Morandi was a gentle presence and would lend many of us his own tools. He made our etching needles and purchased large pieces of sheet metal that he cut up into plates for us and covered with beeswax from his home.
Tell me about Morandi's technique and its influence on your work?
Morandi's printmaking medium was intaglio—etching, always, although at times he added some engraving and also drypoint—the classic method used by artists who made their own prints. I've remained loyal to this medium and I always begin my prints with the traditional hard-ground etching process.
I love the raised line of etching, the direct contact with the metal, the smell of the acid when it is biting into the metal. I destroyed my lungs by putting my nose as close to the acid bath as I could to make sure that every line was being etched by the action of the acid.
How did you come to be his teaching assistant?
After I graduated, Morandi asked me to become his assistant. I visited his house daily and was able to watch his work evolve. Long after Morandi died, his three sisters and I continued our friendship.
Do you have any personal anecdotes about Morandi?
I had a small rectangular canvas that didn't "speak to me," so I gave it to him. He called me weeks later and asked me to come over. He had done an iconic painting on it, and gave it to me as a gift.
I know you went back to America, what did you do next?
Artur was studying medicine in Chicago. I worked at Marshall Fields for a short time. The manager didn't think I would sell anything, and he took pity on me. He offered to pay me a salary. Little did he know that I would end up selling a Vlaminck!
I later worked my way up at the Art Institute from the museum shop to teaching art at the University of Illinois in the Department of Engineering.
What was that period like for you?
Chicago turned out to be a wonderful period. I made lots of friends. One night I was invited to a dinner at Joseph Shapiro's house. He would go on to found the Museum of Contemporary Art. When I got to Shapiro's, the house was all boarded up, but inside the walls were full of Picassos and Matisses. As a token of his esteem, Shapiro gave me a small Goya etching. It wasn't modern, so it was of no value to him. I still have it hanging over my kitchen sink. Where else would you hang a Goya?
While teaching at the University of Illinois, my students and I were invited to spend the weekend with Frank Lloyd Wright at Taliesin East. It was a wonderful experience. I still remember how alive and warm Wright was to me. And the place was rich with textiles, glass, and wood.
Among all the countries you lived, what drew you to stay in America?
One of my trips back to the United States from Genoa was on the ocean liner Andrea Doria, famous later for sinking in 1956. I had a huge trunk and was transporting some paintings, including Morandis. Morandi himself waved me off at the dock. I was nervous and I clutched the package of paintings in a brown paper package to my chest. When I got off the boat in New York, two rugged stevedores took my trunk and insisted on taking my package. "No," I said, "they're paintings." "Don't worry, honey, my girlfriend is an artist–I know how to handle them." There was a spirit here unlike anywhere else.
We moved to Boston, where Artur did research in neurology at Harvard and I cared for our two young children. In time, Artur passed away, leaving me a young widowed mother.
After Artur died, I ended up teaching at Harvard for 20 years. We spent many summers in a remote area of Greece and four years working in Japan, both of which heavily influenced my work.
Since I'm forcing you to name drop, tell me the story about Fellini.
I had seen La Dolce Vita several times, and to try to understand it better I decided to read the script. I was curious why Fellini had written the dialog between Marcello Mastroianni and Alain Cluny where they discuss a Morandi painting. I wrote to Fellini, explaining that I knew Morandi well, that I was his student and later his assistant at the school and I wanted to discuss that scene.
I received a letter from his secretary that "Il Dottore" was away, (fuori Roma), and that she would put my letter at the top of the pile of his correspondence for his return. A year passed, as did my mother. I had been ill, and suddenly, I realized that Fellini had never answered my letter. Instead of writing to him, I wrote to his secretary, repeating my questions. Two weeks later, I received a letter from Fellini, who wrote, "My dear Signora, you have compelled me to answer the mail of my secretary. . . . " He suggested that we meet if I were to be in Roma. I met him briefly that summer. He was funny and brilliant
Janet's Career
During those years, Janet was able to build a large body of work. Her etchings are held in several major collections including The Metropolitan Museum of Art, New York; The Fogg Art Museum, Cambridge; Boston Public Library; New York Public Library; Museo di Arte Moderna, La Spezia; Galleria d'Arte Moderna, Bologna; Istituto Nazionale per la Grafica, Rome; The New Museum, Hokkaido; Ohara Museum, Kurashiki; The Tokyo Gallery; Yale University Art Gallery, New Haven; and university collections in Delaware, Nebraska, San Francisco, and Michigan.
Since we moved to our loft building in New York in the Flatiron District, Janet has been quietly working away upstairs, and we were astonished to see that most of the work in the show this summer has been created since we moved in.
She found a great partner in printer Antonio Sannino at Rome's Calcografia Nazionale. With him, she has been able to experiment with many different techniques that add depth, layers, and meaning to the work.
In Valuing Authenticity: The Expression of Enduring Qualities, Suzanne Boorsch *, explains Janet's work beautifully:
Janet has no regard for the conventional printmaker's concern for the uniformity of an edition. She uses her plates with the abandon of the artist that she is—combining them differently at different times, or using the same plates but printed in a different order, such as reusing a print created in 1986 as the basis for the series Excavations, begun in 2007. She uses different papers and different inks, layering the printed papers to create series of works that are related but unique. And then, further demonstrating her lack of interest in uniformity, she often draws on the prints with charcoal or pastel. Using a brush dipped in an acid-resistant liquid, Abramowicz drew onto the plate before returning the plate to the acid bath. In Spring in Kyoto, another etching from that series, the third plate was a surface print, i.e., the inking was only on the surface of the plate, made by drawing patterns with a liquid ground on a plate covered with a coarse aquatint ground and leaving areas that had no ground at all. This was then exposed to an acid bath of acid and water for several hours, resulting in an upper level of floating islands of forms—unlike the intaglio print—just the reverse, where only the surface was inked.
In 2010, Yale University Press published Janet's Giorgio Morandi: The Art of Silence, the definitive study of the artist. It is a comprehensive, fascinating, and scholarly book about the man, his work, and his place in history by someone who knew him very well.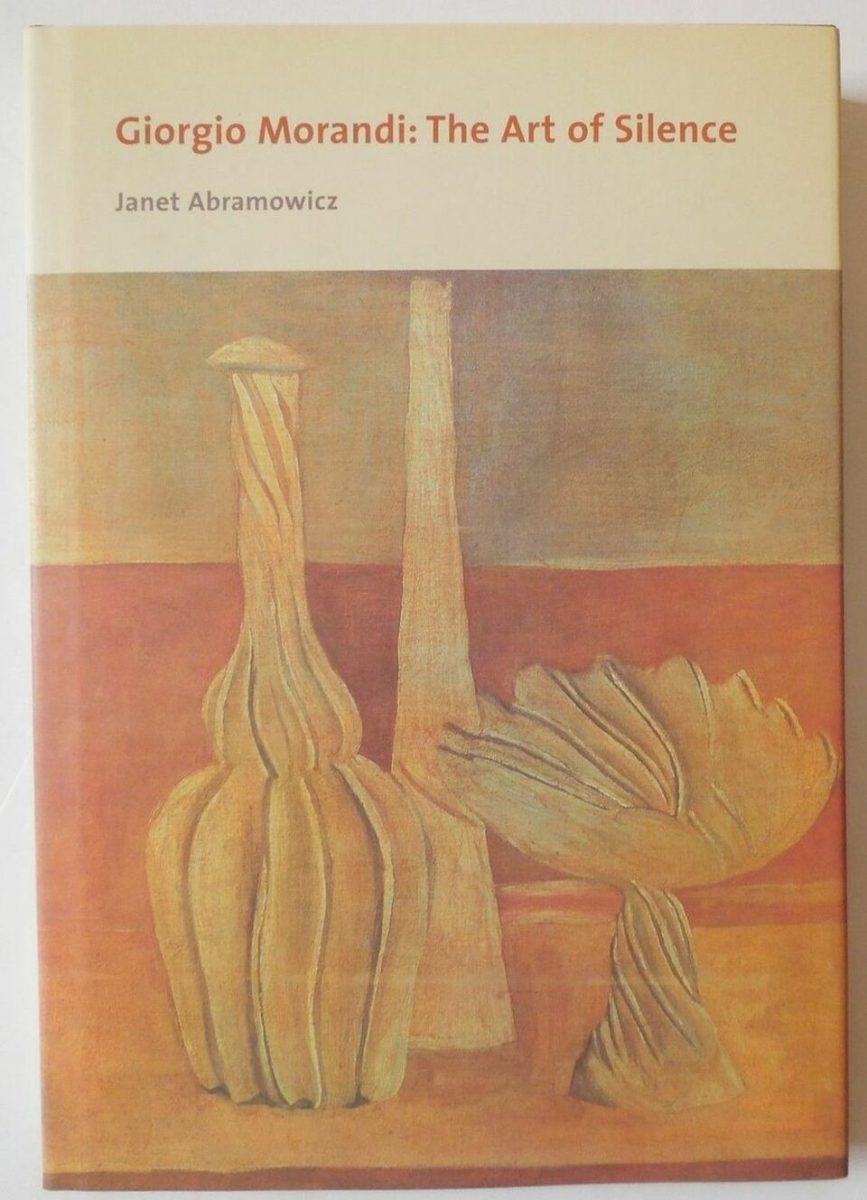 As Janet, Keith, and I had dinner at Alfredo's in Rome, home of the famous and divine Fettuccini Alfredo, we chatted about all the attention and adulation she's been getting. I asked her how she felt about this retrospective. "I'm not looking at is as a retrospective," she answered. "I have so many new challenges ahead with my art."
Who could possibly be more inspiring for me?
Below are links to three short films directed by Janet's son, Alex Abramowicz:
JANET ABRAMOWICZ: MOTION AND VISION A video made to play at the exhibition.
VOYAGE 2 A short stop-motion of the courier trip that Alex made as a gift to the people who put the show together.
ROMA '13 A video of the trip and the exhibition opening.
* Suzanne Boorsch also wrote the intro for the catalog of the show in Rome, entitled, The Experimental Etchings of Janet Abramowicz